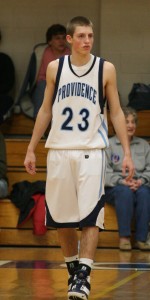 Providence senior Nick Koetter, who is preparing for his final sectional in a Pioneer uniform, is this week's Q&A guest.
Hoosier Hills Hoops: It's your senior year and the postseason has arrived. In your final go-around, what do you hope to bring to your team during the sectional tournament?
Koetter: I've been anxiously waiting for sectionals to arrive. Hopefully I can go out there and play my game and provide my team with a boost. This is my last year, so in my mind it's all or nothing. We have a very competitive sectional this year, so it will be interesting to see what happens.
HHH: The Pioneers forced two overtime periods before falling short versus Jeffersonville. Tell us about that experience.
Koetter: It was pretty disappointing, really. I felt like we had the game in the bag, and then they hit a last-second shot to force another overtime before edging us out in the end. It definitely was not the best feeling. I wouldn't change what happened, though, because I think we learned a lot from losing that game.
HHH: Providence coach Lou Lefevre has developed a reputation as one of Southern Indiana's most intriguing coaches. Describe Lefevre and his style.
Koetter: Coach Lefevre is the best coach I have played for. He knows the game of basketball better than anyone I know. He expects each and every one of us to bring our all every day. I think the main reason he has been so successful is because he wants us to play smarter than the other team. He is always preaching to us how being smarter than the other team will win games. Over his five years at Providence, he has made each player a smarter basketball player. I have a lot of respect for him as a coach.
HHH: Looking back on your basketball career at Providence, what will you remember as your best memory?
Koetter: I will always remember beating New Albany and also going to the semistate my sophomore year. More importantly, I'll always remember my teammates and the friends I have made throughout my career. They have made me the player I am.
HHH: What are your college plans? Do you anticipate playing basketball?
Koetter: I plan on attending Purdue and majoring in construction management. I don't have any basketball (scholarship) offers yet, but I've definitely thought about walking on somewhere. I don't know if I'm ready to end my career yet.