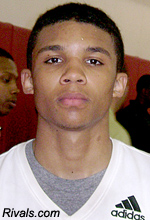 Bloomington South's Dee Davis and Washington's Cody Zeller have been named 2010 Indiana Boys Junior All-Stars core players, Indiana game director Charlie Hall announced yesterday.
The Junior All-Stars will face the Indiana All-Stars in exhibition games June 7 and 9 at sites to be announced.
Matt Carlino (Bloomington South), Jalen Packer (Princeton) and Chris Whitehead (New Albany) were named to the Junior All-Stars' south team, and will participate with the six core players at the south exhibition.
Click here for the Indianapolis Stars' story listing the entire Junior All-Stars roster.