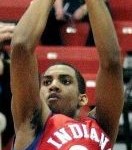 Four true Southern Indiana players were announced today as 2010 Indianapolis Star Indiana All-Stars.
Bloomington North's Julian Boatner, Jeffersonville's Kegan Clark, Bloomington South's Erik Fromm and New Albany's Donnie Hale were named among the state's best, and will face the Kentucky All-Stars in a two-game series June 11 and 12
The June 11 contest will be held at Bellarmine University in Louisville, Ky., and the teams will meet again on June 12 in Indianapolis at Conseco Fieldhouse. The Indiana All-Stars will also scrimmage groups of junior stars prior to the Indiana-Kentucky series at locations to be announced.