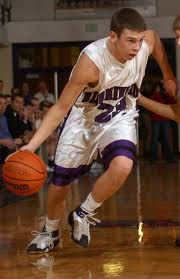 Spencer Turner abruptly ended his college recruitment on Sunday, giving a verbal commitment to Belmont, an NCAA Division I program located in Nashville, Tenn., after finding what the Bloomington South senior described as "the perfect fit."
"I hadn't heard much from Belmont until recently," Turner explained. "I got a (scholarship) offer the day before I took a (campus) visit there. I saw the facilities, met their guys and coaches, and fell in love with the place. I absolutely fell in love with the place."
Turner, recognized as one of the top — if not the best — three-pointer shooter in Southern Indiana, also had offers from Coastal Carolina, Gardner Webb and IPFW, and he was hearing from a host of additional Division I schools — Boston College, Butler, Davidson, Indiana, Penn State and Purdue.
"I don't think Belmont even saw me play until our very last tournament in Orlando," he said. They didn't recruit me at all last year; they didn't come to any of my games. They were watching someone on another court and saw the second half of my game. It all just fell right into place, and it happened so fast."
With his college destination set, Turner is now focused on the upcoming high school season.
"My role is going to be a lot bigger this year. At Bloomington South, everyone has high expectations of our program. I've got to step up this year and show the younger players how to play hard, work hard."