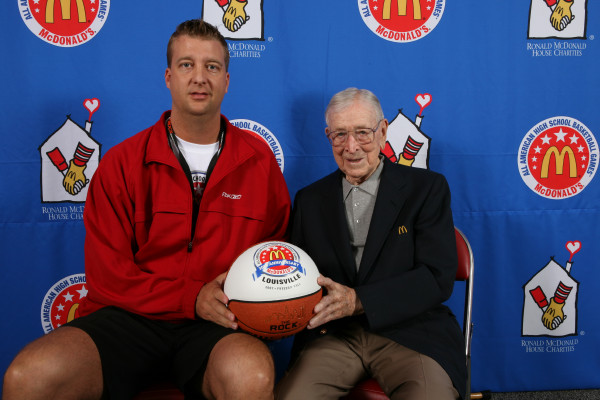 Newly-hired Jeffersonville boys' coach Chad Gilbert, who coached Jeffersonville's girls last season to a Class 4-A State Championship, took a few minutes earlier today to speak with Hoosier Hills Hoops about his new post.
Hoosier Hills Hoops: What does it mean to be named head coach at Jeffersonville, a program widely recognized as one of the state's elite high school programs?
Chad Gilbert: There's just a lot of excitement right now. It's an honor to coach at a school with this much history and tradition. I'm a coach with a lot of passion, and I want my players to play with the same passion that both I and the community have for Jeffersonville basketball. I know Jeffersonville basketball is bigger than any one individual, and I want to embrace everyone — former coaches, all boosters and everyone that has made (this program) so special.
HHH: What is the biggest challenge you immediately will have to tackle as Jeffersonville's new boys' coach?
Gilbert: We must figure out how to get the most out of each player. We need to put these kids in the best possible position to succeed, and we need to show them their individual strengths and help them hide their weaknesses. Once we evaluate what we've got to work with and where this program is at, we'll try to help build confidence, passion and pride in each player. We want the kids to understand that no one player is bigger than this program, and that trust and teamwork is what brings teams together.
HHH: Many rumors have long been circulating about potential defectors from Jeffersonville's roster. Have you heard from any players or parents about possible transfers leaving the program?
Gilbert: We've not yet spoken to any players in the program. This week was a "dead period," so we'll begin to get information out next week, such as our expectations for kids who want to be a part of Jeffersonville basketball. We will expect the players to be accountable; I think that's the only way you get better. I think once the kids know what we're going to expect from them, they will be on board. The stuff we will teach them is geared to not only make them better basketball players, but also hopefully better at life as a whole.
HHH: What do you think the transition will be like from coaching a girls' state championship team to a top-caliber boys' program?
Gilbert: There are different ways to push and get the most out of players. We tweaked our system on the girls side every year and added different tactics to best-fit our personnel. It's really all about communications and getting everyone on the same page and believing in the system. I truly believe we've got kids here that are hungry to win and perform at the highest level. We're excited about the group of players here right now.
HHH: What is your primary goal for your first season as the Red Devils' coach?
Gilbert: I will take the same approach as I did on the girls' side: to win a state championship every year. As girls coach, we fell short of that goal 10 out of 11 years; but in the process, we reached a lot of accomplishments. At the same time, our daily goals will be to get better each day. Every day we want to try and get a little better at something, and I think that's our number-one goal. We already know we will go against great teams, great players and great coaches every night throughout the season. I don't think there's a player around who doesn't want to compete every time we step on the court.