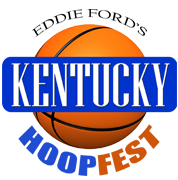 Team Southern Indiana 2012 Red knocked off Pensacola (Fla.) Elite 60-48 to win the 17 and-under copper-bracket — or fourth-place bracket — Monday afternoon at the Kentucky HoopFest in Louisville.
Silver Creek's Caleb Sprigler netted 16 points and Switzerland County's Keegan Kincaid added 15 in the championship game for TSI.
Other team members include: Darryl Baker, Jeffersonville; Jonathan Ellis, Jeffersonville; Sam Hunt, Jennings County; Keontez Malone, Rock Creek; Grant Meyer, Silver Creek; Jason Ray, Martinsville and Bailey Sanders, Jennings County.
TSI's 2015 Red squad lost to CIA Bounce (Canada) in the finals of the 14 and-under silver-bracket. Team members include: Gabe Bauer, Silver Creek; Will Brown, Rock Creek; Christian Evans, Scottsburg; Blake Joseph, Rock Creek; Jackson Logsdon, Floyd Central; Lucas Miller, Floyd Central; Jacob Schafer, Borden; Cameron Schmidt, Rock Creek and Jake Steele, Silver Creek.