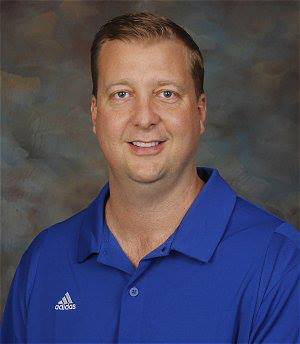 As the search continues for Jeffersonville's next boys' basketball coach, the Red Devils' former boss is settling in as the new athletic administrator at Charlestown High School, his alma mater.
"The way I see it is I left my dream coaching job to accept my dream administrative job," said Chad Gilbert, who coached the Jeff girls' basketball team to a Class 4-A state title in 2011 and amassed  264-51 overall record while leading the school's boys' and girls' programs.
Hoosier Hills Hoops recently sat down with Gilbert to discuss his coaching years at Jeffersonville and his vision for Charlestown athletics.
What will you miss most about Jeffersonville?
I'll miss the camaraderie among the coaches and players. That's something I feel was really special. We were a tight-knit group, and I hope to find another fraternity like that with (area) athletic directors. I also feel like (I'm) leaving a team that has a real chance to win 20 games and a sectional championship. It's difficult to leave, not just because of the talent, but because of the relationships.
Although your new role will keep you consistently around players and coaches, will you miss the coaching aspect?
By retiring from coaching, I want to share everything I can to help other coaches. I can still help our coaches in mentoring kids and handling situations that might occur during the season. When you get out (of coaching), you know what you're giving up. I'll miss my coaches and players so much. I can't emphasize how much those things meant to me. But I'll be there to support our coaches and athletes, so that'll keep me close.
Why was the administrative position at Charlestown so attractive to you?
I live less than a mile from the school. My kid and niece will go there, so I've got extra incentive to want things to be special there. Being able to go back home and see and interact with people I went to school who have children now at Charlestown, that's special. It'll be neat to see the area continue to grow, especially with the construction of a new bridge.
What opportunities and challenges do you recognize surrounding Charlestown athletics?
I'm so excited to go back to Charlestown and hopefully continue to take our athletic programs and athletes, student body and entire community to new heights. I feel like I'm walking into a great situation, much like I did with both the girls' and boys' jobs at Jeff. There's lots of opportunity for things to be great at Charlestown. The facilities are tremendous. Being from there, I've seen how the community gets out and supports its kids. I feel very fortunate to be able to be part of that.
But there's also work that needs to be done. We'd like to take our football stadium to new heights, and our tennis courts need work. We want Charlestown to be something that our student-athletes are proud to be part of.
What would you tell the next boys' hoops coach at Jeffersonville about the job they're walking into?
Jeffersonville (basketball) is in as good of shape as I've seen it since I've been there. Kids are setup in weight programs, the feeder stuff is only going to continue to get better and being a Jeff basketball player — that's just the thing to do. I've been very fortunate and blessed to have great coaches and players around me.
Once you graduate from Charlestown, you're a Pirate for life. Once you coach the Red Devils, you're a Red Devil for life. I feel fortunate to have had lots of different opportunities.