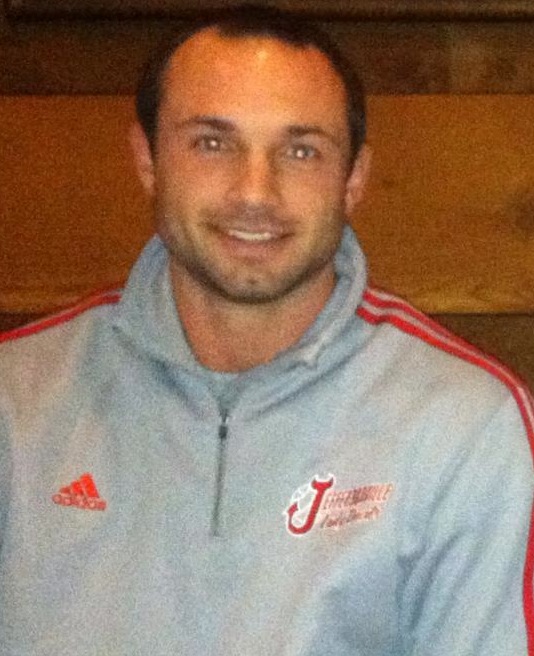 After one year as girls' coach at Jeffersonville, Matt Pait was approved during a special school board meeting Tuesday night as the Red Devils' new boys' basketball boss.
Hoosier Hills Hoops spoke with Pait immediately after his hiring was made official.
With such a long hiring process, is there any pressure taking over the boys' program at this late date?
School starts next week, so we'll get (the players) in the gym as soon as we can and get working on our fall conditioning program. Most of them have been playing AAU and did stuff as Jeff team in June. They're been playing basketball; not sitting around doing nothing. It helps that I do know them a little and have coached some of the team in the past. School starting earlier this year is actually going to help us out; we can get going pretty quick.
As a Jeffersonville native and former player, is the Jeff boys' hoops job your dream coaching position?
It definitely is. I told the girls' team today that I wouldn't have left the girls' job at Jeff for any other job. Because of my pride and passion for Jeffersonville as a former player, this is a great opportunity for me. I had a great time coaching girls, and they are headed in the right direction for the future. Timing-wise it wasn't great for (the girls' team), but it's a dream job for me and a once-in-a-lifetime opportunity.
How will your tenure as boys' assistant and JV varsity coach under former coaches Tim LaGrange and Chad Gilbert help you in this new challenge?
I've coached many of them previously except current freshmen and sophomores. Most varsity players I have experience with, and hopefully we can get everybody back. I think it could be a really great season for us. There's a lot of talent on this team, and hopefully we can continue what  (Gilbert) has put in place. We'll want to get up-and-down, utilize our athleticism and have fun. Hopefully we're a fun team to watch.
When will you address for the first time as head coach and what's the first thing you will tell them?
I plan on talking with most of the returning players tomorrow by phone or in person if they're in town, and meet with the entire team the first or second day of school next week. I'm going to tell them, 'I'm excited to be here, to be your coach, and if you give me everything you've got, (the coaches) will give you everything we've got.' We're going to keep on a winning track and try to win a state championship. That's always our primary goal here at Jeff. Hopefully we can bring home some sectional, regional and Hoosier Hills Conference titles along the way.
How hard was it to step away from the girls' program?
It was really hard. Those girls have given us everything they've got. It's extremely hard to walk away from kids that have given you everything they've got. I told them it was a great career opportunity for me to take the boys' job over. It was a tough decision. I know how much work they're put in and how dedicated they've been. They're going to be successful in future seasons. But ultimately, the opportunity to coach Jeffersonville boys' basketball is something I can't pass up.
Click here for the Matt Pait file.