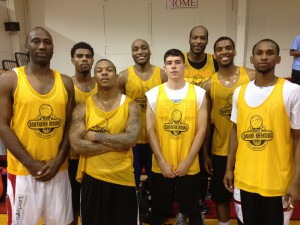 Team Southern Indiana Pro-Am held off KPA Team 1 106-91 Tuesday night at Beth Haven Christian School in Louisville to win the Kentuckiana Pro-Am Summer League championship.
TSI trailed by as many as four points midway through the third quarter before pulling away in the final frame.
Jeffersonville Class of 2006 product Antonio Ballard, who played collegiately at Miami (Ohio) and professionally last season in Canada, led the TSI entry with a game-high 42 points. He was also named the league's MVP.
Darryl Baker, a more recent Jeffersonville graduate (2013), added 24 points. The New Albany duo of TeNale Roland (2009) and Chris Whitehead (2011) added 12 and 10 points, respectively. All three were named to the KPA's All-League Team.
Bellarmine graduate Chris Dowe, a member of the Knight's national championship team in 2011, paced KPA Team 1 in defeat with 21 points. Florida International's Rakeem Buckles, who began his college career at the University of Louisville, added 20.
Other players on the TSI Pro-Am roster included: William Barber, Phil Bennett, Kegan Clark, Terrance Farley, Donnie Hale and Sean Hampton.
MOST VALUABLE PLAYER
+ Antonio Ballard, Miami (Ohio)/Canada
ALL-LEAGUE TEAM
+ Darryl Baker, Lincoln Trail
+ Chris Dowe, Bellarmine/Portugal
+ Jazzmar Ferguson, IU Southeast/Italy
+ Chartreal Hall, Bellarmine/Germany
+ TeNale Roland, Utah State
+ Peyton Siva, Louisville/Detroit Pistons
+ A.J. Slaughter, Western Kentucky/France