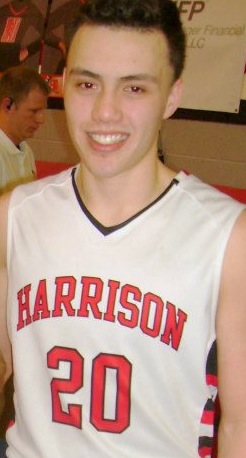 Evansville Harrison, headlined by three Duncan brothers — Ernie, a senior-to-be, and incoming juniors Everett and Stanley — is expected to be a top contender in the Pocket City when high school basketball returns this winter.
And Ernie, a 6-foot-3 guard, is especially ready to lead the Warriors to a strong showing in Class 4-A hoops after deciding on Vermont last week as his college choice.
"I'm really glad (the recruiting process) is out of the way now so I can just have fun and play AAU," said Duncan, who will play in multiple tournaments, including events in Los Angeles and Las Vegas, later this month with his Indiana Elite 17-and-under travel squad. "I'll have an opportunity to start (at Vermont) right away, and their style of play is just like our style at Harrison."
Duncan, who initially made an oral pledge in early 2012 to attend hometown Evansville, entertained scholarship offers from Ball State, Florida Gulf Coast, Toledo and Wisconsin-Milwaukee.
Duncan's Harrison team was eliminated last season by Jeffersonville in a regional semifinal at Seymour, and Ernie said the Warriors' main goal is to "win a regional this time around and then go from there."
"We should be just as good (as last season)," Duncan projected. "We have better team chemistry this year. We're really all one."
FOUR DUNCANS ON VARSITY?
Ernie's will get support from his younger brothers Everett and Stanley, twins who logged significant minutes last season for Harrison. Both have also developed strong identities as up-and-coming prospects, and are now hearing from Division I schools.
But another Duncan brother — freshman-to-be Brandon — could be in the Warriors' varsity rotation this season, according to Ernie.