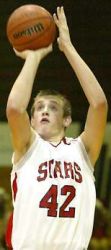 Bedford North Lawrence senior Alex Pritchett gave an oral commitment Tuesday during a visit with the coaching staff at Wright State, the first school to heavily recruit the 6-foot-8 forward.
"They were the first school that showed a lot of interest in me," Pritchett said. "As I started getting letters from others schools, I kept thinking that 'I like Wright State better than this school or that school.' They have a nice facility and I like the coaches a lot."
Pritchett, who has visited the Raiders' campus three times, chose Wright State over scholarship offers from Evansville and IPFW. He also had interest from Ball State, Creighton, Duquesne, Eastern Kentucky and IUPUI, among other schools.
"It really came down to Wright State and Evansville," he added. "They were my top two for a long time."
Along with his Bedford teammates, Pritchett is ready for the upcoming season, and he's "glad to get the recruiting process over" before the start of high school basketball.
"It was pretty important for me to get (the recruiting process) over (before high school basketball) so I can focus on the team. I'm pretty excited about our team this year. I expect to win sectionals; I really think we can go pretty far."